by Patricia Bradley (also posting this at www.patriciabradleyauthor.com/blog)
Friday afternoon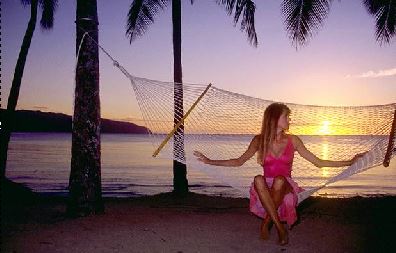 Just wanted to let everyone know when you read this I'll be somewhere in the South Pacific next week. That's in case I don't answer the comments right away 'cause I'm too busy diving, or just sunning on the beach, or relaxing in the hammock.
See the letter I received Friday for the reason why.
Dear Fund Beneficiary
We have concluded to effect your payment of $2.5Million USD, through western union, but the maximum amount you will be receiving each day starting from today is $5,000 twice daily until the funds is completely transferred to you.
Kindly Contact Western union Agent:
Also reconfirm your information to them below
YOUR NAME----------------------
YOUR ADDRESS-----------
YOUR PHONE-------------
OCCUPATION-----------------
I have sent $5,000 twice in your name today, but Mr Eric Peters said that you should contact first with your information. So contact Mr Eric Peters or you call him as soon as you receive this email and tell him to give you the Mtcn, sender name and question/answer to pick the $5,000.This is from government office payment.
Pls do let me know as soon as you received all your funds $2.5Million,
Thank you.
Mrs. Christiana Michael.
Whoo-Whoo!! Life of leisure, here I come.
Wait...
I can't believe it!
Just this Labor Day morning, I received another email, this one giving me another $2,000,000! Read it and weep...
Attention: Dear Beneficiary,
Your Name/E-Mail is selected as one of the scam victims to receive
compensation sum of US$2,000,000.00 (Two Million United State Dollars)
which was allocated to you from office of International Monetary Fund
(IMF)
I was directed to inform you that the total sum of US$2,000,000.00
(Two Million United State Dollars) has been credited through ATM CARD
in your name as one of the scam victims/poverty alleviation
beneficiaries, we are however sorry for the delay in contacting you,
the reason is that we are following it according to the sequential
order given by the International Monetary Fund (IMF). Your fund/ATM
CARD is now in the United States of America. You are required to
contact...
This is the part I like best:
We sincerely apologize for all what you have gone through in the hands
of those unscrupulous elements and wish to advise you to please avoid
further communication any one from any part of African Countries as it
may turn to be another SCAM.
Important notice, send your information through this
email:(g_kbenson@yahoo.com) for immediately release of your ATM
Card.
Waiting for your delivery details.
Yours Sincerely
Mrs Kimberly Benson
Head Operational Manager ATM Card Department
So glad I didn't take off for the Hawaii just yet!
Tuesday morning
I guess you can see I'm not on a beach in the South Pacific. And I'm sure you knew when you read the first part of the post that I wouldn't be. But when the above letter came into my inbox, I couldn't resist having a little fun with it. But it did make me stop and think.
Not what idiot thought I'd fall for such a silly email, but if somehow I did fall into $2.5 million dollars, would I then do nothing the rest of my life? Would I just retire from life and go live on a beach somewhere in the South Pacific?
I'm going to reserve my answer to that question for the comments. You see, I want you to answer the question of what you would do with the balance of $2.5 million dollars after paying all your bills and setting up trusts for your kids, etc?