It's been a year since Revell made an offer on my romantic suspense manuscript, Shadows of the Past, and I thought readers might like to know a little of what goes on from contract to publication. So I thought I'd do a little interview with myself.
What is the question you get asked the most often?
When is your book coming out? Early on when I told the questioner it would be February 1st, their eyes would grow wide and I knew the next question that was coming. What takes so long? I don't know why it takes a year, but I've noticed most Trades, (and this book is the Trade size) take about a year from turning it in until publication. But...Shadows of the Past can now be preordered on Amazon, CBD, and Barnes and Noble!
During that year, Shadows of the Past went through at least 3 edits. The first with my acquisitions editor—it was actually 2 edits, then another one with the line editor, and at that point I'm thinking, but I thought you liked the book! Then a final one called the galley proofs. While I was doing the galley proof, another reader was proofing for typos.
Do you get to choose your cover?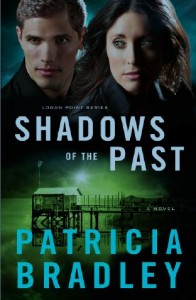 No. I do get asked if I like it. Lol. Thankfully, Revell does really great covers. See…
So, it doesn't look like you do much while you're waiting for your book to come out.
Oh, but I do. I'm in contact with the marketing team and the publicist, and I've been busy writing the next book in the series. Just turned it in at the end of August, and received an email last week that the editor loved it. The relief I experienced actually made me sick. Wasn't good for anything the rest of the day.
I hear horror stories about edits. Were they really bad?
I didn't think so. I wanted my book to be the best it could be, and I figured the editors at Revell knew what it took to make it the best. Was it always easy? No! Sometimes I had to really dig deep within myself to come up with the changes my editors wanted. But, I had taken my book as far as I knew how. I was so glad to have guidance and editors knowledgeable about what it needed.
What was the hardest part of the whole process?
For me, it was reading and re-reading my manuscript. It got to a point where I was reeeeeeally sick of it. But, hopefully all that reading will help make it a better book!
Now, I have a question for you, the reader. What are you looking for when you read a book?
I asked God to teach me patience and He gave me a book to write.