by Patricia Bradley
I ran this post back on August 7, 2012. Since then, both of the books in the one-sheets shown here have been published.
Shadows of the Past
was released in February 2014 and
The Brass Ring
was released by Harlequin Heartwarming September 1, 2014 under the title,
Matthew's Choice.
Here's the
link
to learn more about them.
I truly believe a good one-sheet will help you to pitch your story.
August 7, 2012
Two years ago just before the 2010 ACFW Conference, someone mentioned in one of the loops that if you were pitching to an editor or an agent, you needed a One-sheet. What the dickens was a One-sheet?
Much to my dismay, I discovered a One-sheet had LOTS of stuff on it. My photo...my bio...my pitch...the name of my book...you could hear my groan across town. So, I got to work Googling
how to write One-sheets
. I found
Kathy Hartman's blog
and it had several articles to check out. You can also check out
Rachelle Gardner's
website. She has a link to several author's One-sheets. Then I went to work in Publisher. You can do basically the same thing in Word, but I found a template I liked better in Publisher.
Below is a One-Sheet for a romantic Suspense.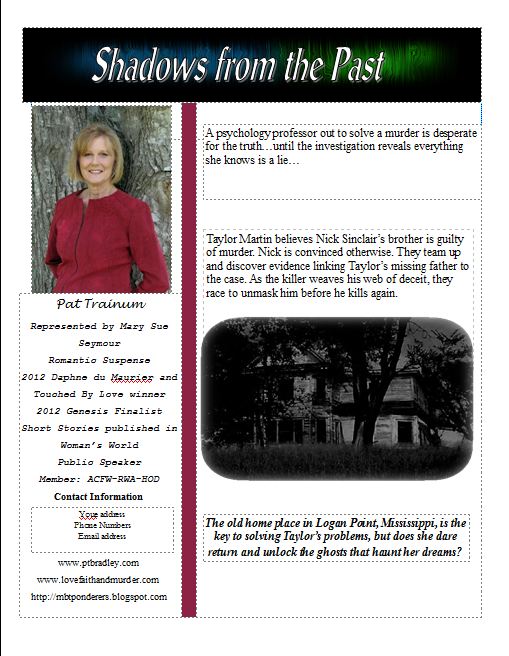 I put the title of my book at the top, my photo and bio on the left side. My bio included my writing credentials, organizations I belong to and my contact information. Then, to the right I added a log line and brief paragraph of what the book is about, then added a photo that fits the book. On the back, I included a one-page synopsis of the book. The lines around the boxes disappear when you print the One-Sheet.
I wanted the One-Sheet for my Romance Story to have a different feel. See below: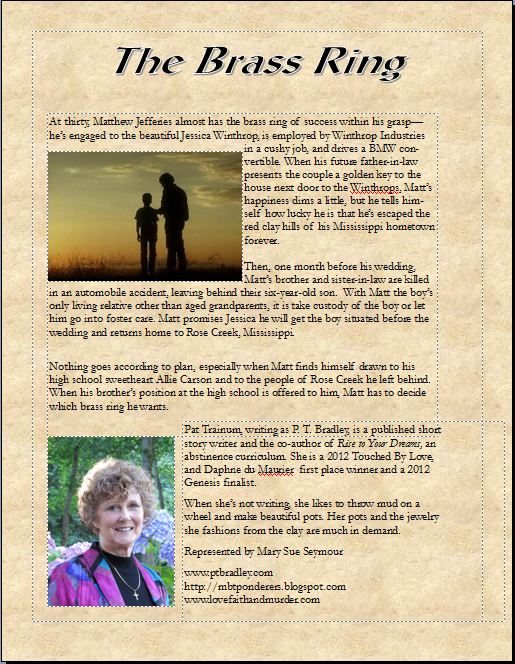 As you can see, I went for a whole different look. One-Sheets are fun to play around with, and while they aren't easy to make, neither are they particularly hard.
If you have any questions, leave them in the comment box with your email addy.